Your Time Is Now. Do More Faster & Dominate.
As a vice president of global marketing for a SaaS company and growth hacking speaker, I want to start sharing my knowledge with you. First, I want you to have access to the 58 online resources I use every week from demand generation platforms, big data research to time management tools. Then as a bonus every week, I'll send to you updates from my on-demand radio show, where I interview inspiring people with proven ability to execute, founders of niche software tools that scale, and executives who create operational strategies that work! Watch this video to learn more and get my new resource book "Inside My Garage."
Grow with Kendall Matthews & Friends
Since 1994, I've answered thousands of questions from friends, family, and colleagues. Now, instead of repeating myself, I've decided to put my answers down on digital paper. For example, recently a founder/CEO of startup niche software company asked me, "How do I hire a good employee?" I told her 3 things that I always look for and said to read this…
Get my new free resource book: Inside My Garage, Growth Hacking Resources for CEOs and Founders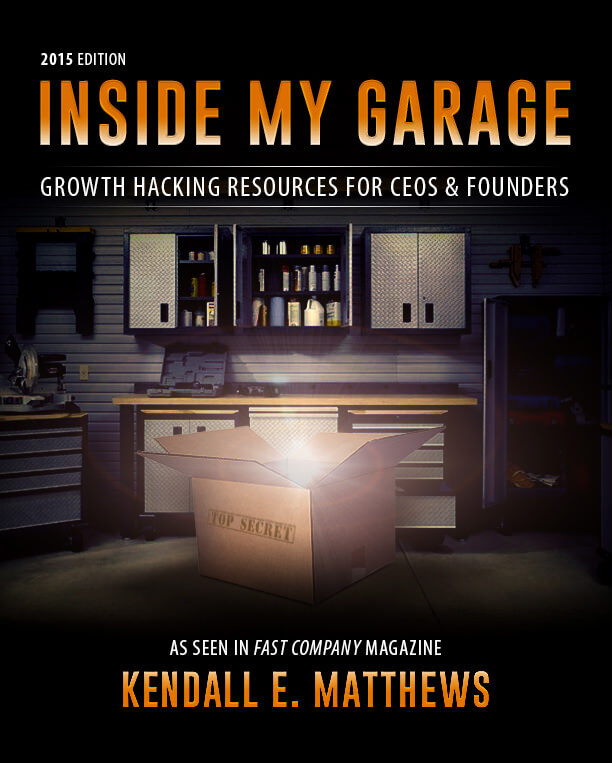 DON'T DROWN IN THE DETAILS. Get this shortcut list for free. Just submit your email address to get:
Demand Generation & Digital Marketing platforms

Time Management & Productivity tools

Competitive Research & Big Data sites

Content Marketing Resources

Personal Development apps
"If you don't have time to do it right the first time, when will you have time to do it over?" said John Wooden, 10 time NCAA basketball national championship head coach at UCLA. This is one my
all-time favorites quotes
. When I work with my team on under tight-deadlines and priorities that shift like the sand, I remind them that as long as they're working with me, there will be no rush to mediocrity.
The Kendall E. Matthews' Foundation To Success
Learn More
Get 83% of my favorite business hacks to stiff-arm your competition.
Grow your teams, improve organizational structure, generate more revenue, and have a life worth living!
Learn More